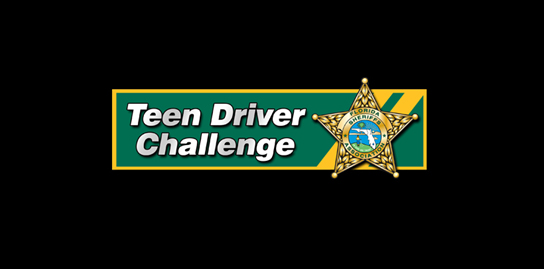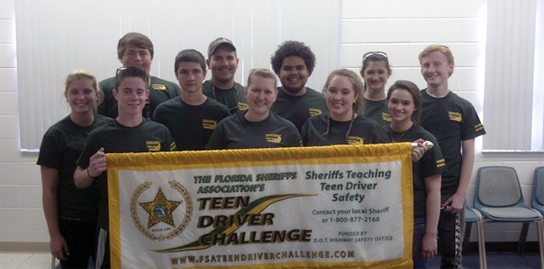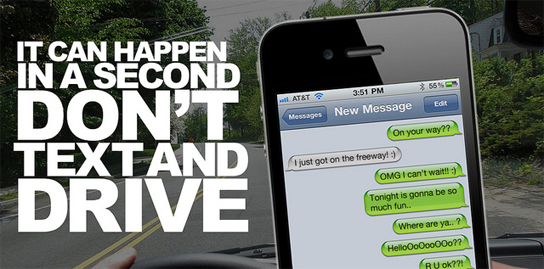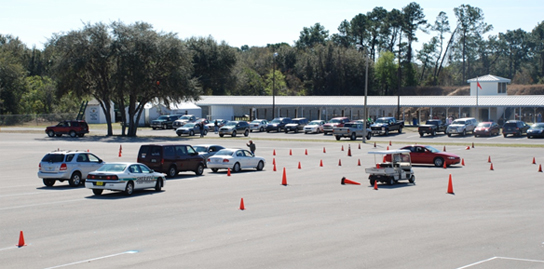 OVERVIEW:
Sheriff Peyton C. Grinnell is committed to the safety of Lake County's youth and is pleased to offer, in conjunction with the Florida Sheriff's Association, the Teen Driver Challenge. This 12 hour course is taught over two days and trains teen drivers how to prevent crashes through defensive driving techniques and evasive maneuvers. The program provides a mixture of classroom instruction and hands-on driver training at the Lake Tech Institute of Public Safety Driving Range in Tavares.

Teens between the ages of 15 - 19 are eligible and MUST have a valid Learner's Permit or Florida Operators License and participants must provide their own car. The Lake County Sheriff's Office does not provide cars for this program.

The Teen Driver Challenge is a defensive driving program that covers the following topics and driving exercises:
Classroom Topics (4 Hours)

Vehicle Dynamics
Human Factors
Responsibility
Liability
Drug and Alcohol Use
Night Driving
Dangers ofTexting and Driving
Aggressive Driving and Road Rage

Driving Range Exercises (8 Hours)

Threshold, ABS, and Emergency Braking
Evasive Maneuvers
Cornering
Backing
Forward and Reverse Serpentine
Figure 8
Off Road Recovery
Skid Control
GENERAL INFORMATION:
Class size is limited to 15 students.
Seats are available on a first come first serve basis. Classes do fill quickly.
The registration packet must be completed in full.
Lunch will be provided on Saturday.

REGISTRATION INFORMATION:
Items needed to complete student registration:

Clear copy of student's valid Driver's License
Copy of registration of the vehicle used during the class
Copy of proof of insurance
Student information sheet
Complete and have notarized OR witnessed by LCSO employee the three forms below: click here to download registration forms
-Parental Permission Form and Release of all Claims
-Student Statement of Voluntary Participation and Release of all Claims
-Vehicle Owners Statement of Permission and Release of all Claims

All forms must be completed and returned before a student can be enrolled in the class. The forms can be faxed, scanned & emailed, or mailed in. For any questions or further information, please speak to our TDC Point of Contact:

Lake County Sheriff's Office
Teen Driver Challenge
360 W. Ruby St.
Tavares, FL 32778
Phone: 352-326-8108
Fax: 352-343-1347
teendriver@lcso.org

The student will be contacted to verify enrollment once the registration packet is received.


COURSE OVERVIEW:

Day One:
The Classroom, Friday evening, 5:00pm-9:00pm. No vehicle is required.

Students participate in a four-hour session that will cover the following topics:
Teen Crash Facts
Knowing Your Vehicle
Use Common "Senses" When Driving
Belt Yourself, It Won't Hurt
Vehicle Dynamics
Safe Driving Can be Habit Forming
Alcohol, the $8,000 Drink
Aggressive Driving
Driving Exercises
Day Two:
The Driving Range, Saturday 8:00am-5:00pm, Vehicle is required.

Students participate in an eight-hour driving class at the Driving Range, in Tavares. Each student will practice the following exercises to develop defensive driving skills:
Figure 8
Threshold Braking
Forward Serpentine
Reverse Serpentine
Cornering
Off Road Recovery
Skid Recovery

COURSE LOCATION:

Lake Tech Institute of Public Safety Driving Range
13000 Frankies Rd,
Tavares, FL 32778

Directions to the Range:

From the North; take SR 19 South from US 441 in Tavares. Once you are to the intersection of SR 19 and CR 561, veer left onto CR 561. Go approximately two miles until you see the DMV and Lake County Animal Services building. Frankies Road is your very next right hand turn.

From the South; take CR 561 North from US 27 to Frankies Road and turn left. If you are taking SR 19 go north to CR 448A and turn right. Once you are at the intersection of CR 561, turn right and follow the above directions.

FREQUENTLY ASKED QUESTIONS:
Can students share a vehicle?
- No, for safety precautions and time restraints, each student must provide their own vehicle.

What car should my teen use for the course?
- It is highly recommended for students to drive the vehicle they will be using the most after the course. This will allow them to become more familiar with the dynamics and handling of the vehicle through the TDC.

Will this course help lower our insurance?
- It can. Contact your local insurance agent for possible discounts.

Do parents have to stay for the whole course?
- No they don't. It is recommended that parents do not stay for the course.

My teenager just got their license. Can they take the course?
- Students are asked to have some driving experience with a parent or other qualified adult before attending this class. This course is not designed for brand new drivers.