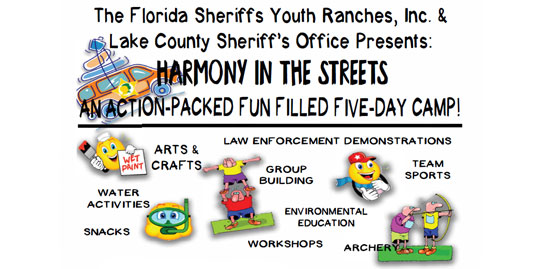 EVENT FLYER
FREE SUMMER CAMP REGISTRATION

LOCATION AND DATES:
Ages 8-12
Eustis Middle School: June 5th-9th 2017
Monday-Thursday 9:00am-4:00pm, Friday 9:00am-3:00pm (graduation).
Open to the first sixty kids that register!

WHAT TO WEAR & BRING:
T-shirt & Shorts
Closed toe shoes (no sandals)
Swim suit or change of clothes to get wet Towel
Sunscreen
Hat

WHAT NOT TO BRING:
*NO smoking tobacco, chewing tobacco, alcohol, or illegal drugs of any kind.
*NO knives, hatchets, guns or weapons.
*T-shirts/clothing with inappropriate messages and/or words are strictly prohibited.
*Campers should NOT bring money, jewelry, radios, cell phones, game boy s or expensive recreational


HOW TO REGISTER:
Click on the "free summer camp registration" link to register for one of the free camp locations. Email your completed application to summercamp@lcso.org. Please note that applicants are accepted on a first come first serve basis.