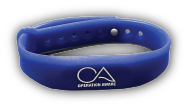 Operation Aware is a program designed for the parents or guardians of individuals with special needs who might not be capable of providing valuable information about themselves in an emergency. Sponsored by several law enforcement agencies throughout Lake County, Operation Aware provides wearable technology which gives law enforcement and other first responders valuable information about the wearer and is offered at no cost to the residents of Lake County.
The goal is to get an Operation Aware blue wristband for residents with autism/Intellectual and Development Disorders (IDD), Alzheimer's, Dementia, and other special needs who might not be capable of providing valuable information about themselves in an emergency. The wristband will do two things:
Assist Law Enforcement Officers in our interactions with individuals who may require a different response since many of these individuals are non-verbal.
Help reunite them with family when they wander from caregivers' supervision even being able to disseminate information with the power of social media in minutes to ask the public to be on the lookout when a loved one goes missing.
The untold stories of families with aging parents or developmentally disabled children cope daily with the very real fear that those family members may wander from caregivers' supervision, sometimes with tragic results. The Alzheimer's Association estimates that 60% of seniors with Alzheimer's Disease or another form of dementia will wander; of those, up to half will suffer serious injury or death if not found within 24 hours. The Centers for Disease Control and Prevention reports that one in 54 children have autism spectrum disorder and that more than half, or about 60%, were reported to wander. The specter of missing individuals exacts a significant toll on families, communities, and public resources.
Operation Aware will give free wristbands to Lake County residents.
The wristbands have a unique number and QR code for each loved one and the public to scan which will direct them to call 9-1-1 and only law enforcement officers will have access to private details. In addition to having QR codes, the wristbands have NFC tags where one can scan their phone over the bracelet and be directed to notify law enforcement.
If you would like to participate in the Operation Aware program, please complete the registration form found here. Email your completed form to: CommunityServices@lcso.org OR fax to 352-365-2804.