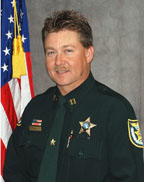 Captain Todd Luce


Born: Adrian, Michigan

Education: Altamonte Springs Christian High School; Seminole County Community College Criminal Justice Academy; Graduate of University of Louisville Southern Police Institute 104th Administrative Officer Course; Currently Enrolled Vincennes University

Career:
Lake County Sheriff's Office
1989-present


Captain Todd Luce
was born in Adrian, Michigan. His family moved to Central Florida in 1973. Todd attended and graduated from Altamonte Springs Christian High School and soon thereafter was employed by the Sanford Police Department as a communications dispatcher. Todd attended the Seminole County Community College Criminal Justice Academy and graduated to become a patrolman for the city of Sanford in 1985.

In 1987 Todd re-located to the city of Eustis where he was hired as a patrol officer and served the city of Eustis until 1989 when he was hired by the Lake County Sheriff's Office. Todd began his career with the Sheriff's Office as a patrol deputy and was soon thereafter assigned to the Narcotic Unit. Todd was promoted to the rank of sergeant in 1994 and was fortunate to serve as a supervisor in several areas within the agency ranging from the Patrol Division to the Narcotics Division and included a term as the agency's Public Information Officer. During this time Todd attended the University of Louisville's Southern Police Institute in Louisville, Kentucky and graduated from the 104th Administrative Officer Course.

Todd was promoted to the rank of Lieutenant in 2002 and in 2007 he was promoted to Captain.

Todd is very active within the Lake County community serving as an active Board of Directors member for the Lake County Fair Association, past Executive Board Member for the Greater Lake Youth Athletic Program and served the Lake County citizens as an Advisory Board member for the Lake County Parks and Trails. Todd is a recipient of the 2011 City of Eustis Public Safety Community Service Award and 2012 Lake County Community Service Silver Eagle Award.

Todd comes from a Public service family his father retired as a Battalion Chief for the Lake County Fire Rescue Service and his brother is serving as a Command Staff Officer for the City of Fruitland Park Police Department.

Todd has been married to his beautiful wife Angela for over 25yrs. and they are the proud parents of their son Payne.